About Us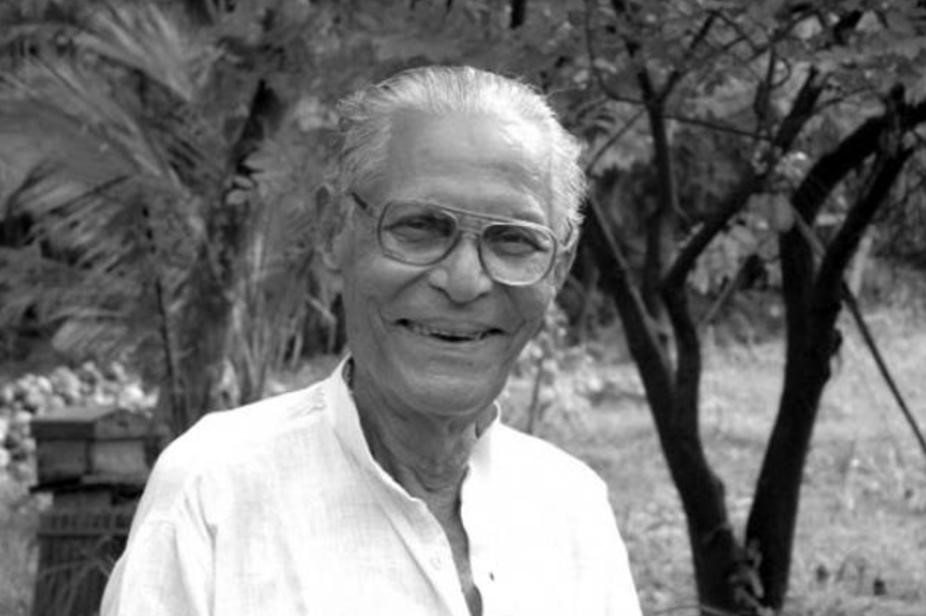 Late Mr. Bhaskar Hiraji Save' (22nd January 1922 to 24th October 2015)
Shri Bashkir Hiraji Save lived in a small village called Dehri located near Umbergaon (Gujarat). He was practicing Organic and Natural Farming since 1960. He used to cultivate all his crops by following a natural cycle. From his personal experience, he has learnt that a plants' religion is to give us healthy food for living and our duty is to provide only water to the plant because that is all a plants need. However, when man started interfering in GOD's holy work by using chemical and fertilizers plants are not able to perform their duties and started producing toxic food.
In year 1950, Mr. Save' was hypnotized by the illusion created by The Modern Method of Farming and he was impressed by the results. In the beginning, he got excellent results from his farm, so he took up an agency of chemical and fertilizers and very soon, he became the best agent in the entire Dehri village. People and farmers use to visit his farm to see modern farming's results by which he was getting. After seeing farm production and its results farmers use to get impressed and started purchasing chemical and fertilizers from Mr. Save. This way money started pouring on him from all directions. However, very soon he realized that in his own farm he was consuming more and more chemicals fertilizers and water to get the same amount of production, not only was his cost going up but the fertility of soil was also depleting at a fast rate. He realized his mistake and decided to give up The Modern Method of Farming and chemicals fertilizers agency in 1960. For the Protection of Environment, this was his first step and for his noble good work, he earned a very good title from village people and from that day people use to call him Mr. Save - 'Crazy Man'.
In 1960, Mr. Save' started practicing Organic and Natural Farming. He undertook various experiments to find what, where, when, how, how much water & manure is required by a plant. After adopting his own organic farming system, his production has kept on increasing and that too with 'ZERO' input, with very less water& labour. He has proved that, anyone can earn 100% profit with an investment of 10%. It means Do Nothing and Earn 900% Profit.
Through his experiments, he converted a barren land called Sanghavi Farm into Green land. The owner of this farm Mr. Ashok V Sanghavi was his student and he too has been practicing Organic Farming from the year 1987. Mr. Sanghavi is also promoting Mr. Save's system of organic farming in India and abroad. Ashok Sanghavi has written a book called 'The Way to Health, Wealth and Happiness' in Gujarati, Hindi, Marathi and English, in which he has mentions all about organic farming system and about natural medicine. About his book, please see Book Info of this website.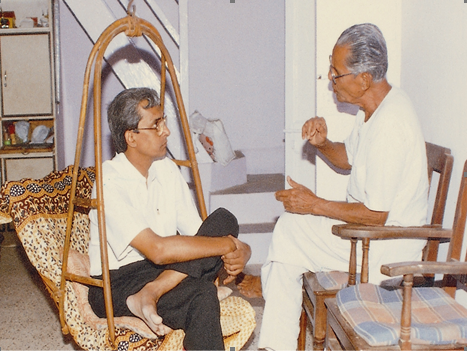 Mr. Save Guruji gives training to Mr Ashok Sanghavi
Mr. Save & Sanghavi experiments say that by just sitting at home if you want be self-reliant, want to be healthy for a life time and want to earn good money for your entire family, then buy one acre of land and we can guarantee that you will never have to work for the rest of your life.

Ashok Vadilal Sanghavi
I am a businessman living in Mumbai. One can imagine the type of routine life Mumbai people live. We have our own printing business in Mumbai and live in a joint Hindu Jain family. Generally, businessmen never do farming but I have been practicing Organic and Natural Farming from the year 1987. I am sure you would like to know why businessman has decided to go into farming. Well the story behind it is as follows.
In a Hindu wedding when you are from the groom's side one can imagine the kind of hospitality and welcome we get. In one wedding, in the name of hospitality, I was force to over eat and the next day I got constipation and a severe headache. For the first time in my life for the headache, I took an allopathic medicine. To my surprise, my headache cured just in 5 minutes. Therefore, whenever I had a headache, I use to take allopathic medicine, but soon my body got immune to it and I had to take higher and higher dosage to cure my headache. From a small headache and many new diseases made home in my healthy body because of the side effect of allopathic medicine. To cure these diseases I started taking more and more allopathic medicines. Finally, my body stopped reacting to medicines and my health kept deteriorating, I looked like a 50-year-old man at the age of 25. One day my mother told me your grandfather and many more used to live for a minimum 100 years because of healthy food, which was cultivate by our Jain system of farming. Then I realized that the main reason of all my illnesses is unhealthy food and allopathic medicine. Therefore, for a diseases free life I decided to take up Organic Farming.
Being a businessman I did not know the ABC of farming. I did not know what type of land we should purchase for farming. Thus when I set out to buy land I cheated by the land broker. He sold me a wasteland and when I asked him what a wasteland means? He told me that a wasteland is a land, which has not been in use from a long time. In this way, cunningly a non-fertile wasteland sold to me. After this, I was in search of a guru who would teach me from the very basics all about Jain Organic Farming System. Here my luck favoured me and I met my guru, guide, philosopher and friend Late Mr. Bashkir Hiraji Save. He taught me all about Jain Organic Farming from the very basics to the most intricate details of the working of a plant.
Mr. Save taught me, with Zero input and with less water, how to convert any wasteland into green land and how we can get a huge profit from farming? Through Save's system of Jain Organic and Natural Farming I earned huge profits; my investment realized just in four month from wasteland and we 'Save & Sanghavi' both got many National and International awards.
Today Save & Sanghavi family have taken up the responsibility of spreading Mr. Save's Jain Organic Farming System all over the world and trying to save farmers from the curse of The Modern Method of Farming and prevent them from committing suicide.
After learning from Shri Save Gruji, now I can assure that, from one-acre land one can live very happily without any diseases. Not only that, by following Mr. Save's system of Jain farming, his biggest security will be his land, which will never face depreciation it will have only appreciate in terms of cost and fertility.
After suffering from various diseases and being cured temporarily by Allopathic, Homeopathic and Ayurvedic medicines I did not get much relief. Thus I decided to cure my diseases myself only with natural medicines.
Firstly, I looked at the Allopathic and Homeopathic system of curing diseases, but after looking at them from all angles, I realized that, both the medicines is made up of nothing but chemicals and animal body parts. So taking up these systems of curing diseases was out of question because both the medicines is made totally based on cruelty and have many side effects.
One simple example, suppose one has blood pressure. Today this disease is very common in our society, for its treatment Allopathic Medicines start from 5mg. tablets. If this tablets are suitable for our body than it should cure any kind of blood pressure in few months but day by day the power of these tablets increase from 5mg to 250mg and after that our Dearest Doctor will say, you should take this medicines for a life time !! It is very important to understand that Allopathic Medicines do not cure any diseases it temporarily shows good result by compressing the disease in the body itself. In fact, we do not eat stones than how stone developed in our body. Because Allopathic Medicines has many 'SIDE-EFFECTS' and that is why in the end these Allopathic Medicines develop Cancer and many disease.
In today's fast moving World people want all the results very fast and they want such medicines which cure disease on the spot !! When disease does not come in overnight then how will it go overnight? People do not have time and faith in Homeopathic Medicines because in that system maximum medicines and knowledge is required so people cannot take them on their own. In addition to this these medicine is based on cruelty and has many side effects. People who must be taking these medicines from the one year we should ask their own opinion, as to how much relief have they got from Homeopathic Medicines and at what cost?
Then I looked at the Ayurvedic system. This system involves a detail and in depth study of plants and if you do not have the proper knowledge of this system then you may have to face many side effects. Thus, I did not take up this system, because today farmers are using lot of chemical fertilizers in their farm, when the plants themselves have lost their nutritional value, how will the medicines have any effect in curing diseases. Yet there is our trust at Umbergaon, which cures cancer using our farm's Organic Ayurvedic Herbs. Then also, I started looking out for a simple system in which you can cure any disease on your own, which involve no violence.
Finally, I came across the Bio-Chemic system of curing diseases. This system developed by a German doctor named Dr. Schuesshlar 200 years ago. Dr. Schuesshlar had done a good study on nature and expressed it as follows, "The way we use manures for plants, the same principle applies for man. The person who fed up with his diseased and painful life, for them this natural medicine is like a blessing. The human body is made of the five elements of nature: fire, water, wind, earth, sky and these five elements are made of 12 salts. Therefore, our body is made of these 12 salts. During my practice, I used these 12 salt medicines. By practice and readying I found that whenever any salt reduces OR increases in our body we suffer from a disease."
By scientific way, 12 salt medicines have mixed in a proper manner and medicines get ready, which give a healthy life to any patient. This system involved no violence as the raw material for these medicines extracted from land through scientific ways and mixed with proper dosages of milk powder to get the final medicine. These medicines do not need to test on animals, as they have 'NO SIDE-EFFECTS' at all, so these medicines is sold openly in the world and these are the only medicines that do not require a doctor's prescription. Thus, I finally decided to take up the Biochemic system of medicines.
Even after existing for 200 years this system did not have much effect because people want on the spot results, do not want to follow a proper diet, no one has food control and do not have patience to cure diseases. As I follow the motto of 'NO ADVICE WITHOUT ACTUAL PRACTICE', so I found solution and the reason to get cure and relief in any diseases in 15 days through a proper diet.
After proper diagnosis, I started taking 12 salt system medicines. First, I tried this 12 salt medicine on myself, then I tried it on my family members and finally on many people. In my 40 years' experience and to my surprise all kind of diseases disappeared. Like organic farming system, these 12 salts is obtained in the form of minerals from the earth only. Therefore, I used these medicines and organic food on myself, and got only 90% relief. Thus from the last 40 years I have giving these medicines as a holy Prasad Free to various patients and till today not one of them has complained of a side effect or that they are not feeling better.
SERVICE TO MEN IS SERVICE TO GOD
I am not a doctor and have no licence to do practice, like a Holy Prassad, if you have faith than from my 40 years' experiences I suggest to get rid of any diseases; you need to follow basic diet control and my prescribed medicines. For your treatment see Organic Medicines and in 15 days, you can see surprising results.
About these medicines, I like to give you only one strong and concrete proof of my mother. This website site was updated on 2018 and on this date, my mother is 103 years and she is 90% OK by consuming our organic farm production and 12 salt medicines. You will say why your mother is not 100% OK. For answer, see my book and look at our environment, how one can live 100% OK life, because our environment has been disturbed by all the Morden Culture, we are living in a gas chamber and our water is polluted. Before we leave this Beautiful World, we all should do same good work for our next generation. For Nobel Work we Save & Sanghavi are ready to give our land to start first Organic Farming University in India.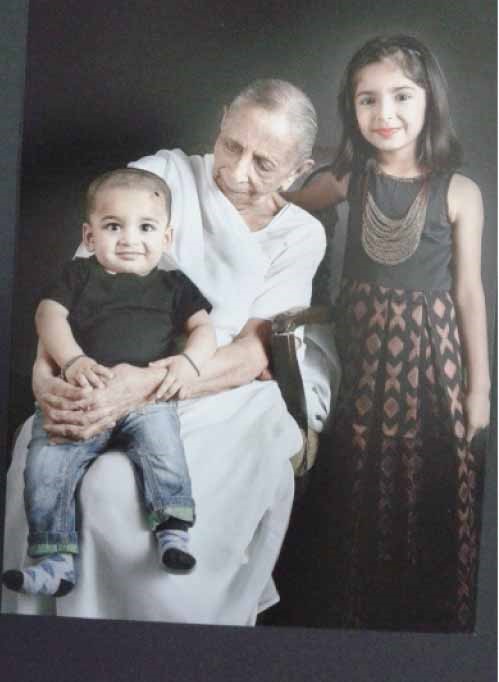 At 103 years My Mother with 4th Generation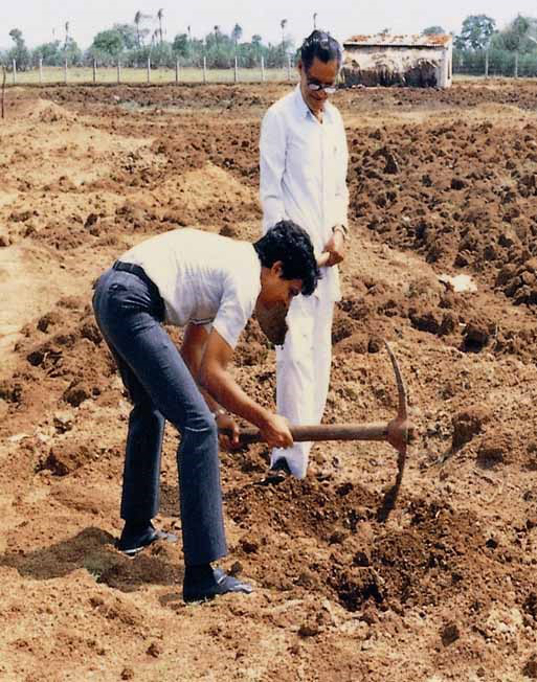 By actual work Guruji has teached me farming